Moving to the USA from Denmark?
Here are 5 fun tips
As the author of "Working with Americans: Tips for Danes" and "Working with Danes: Tips for Americans", I'm occasionally booked for one-on-one sessions with Danish families getting ready to move to the USA.
We spend much of our time on cultural questions – how should we make small talk? how will we find friends? – and practical questions, like what type of home insurance is required and how driving regulations differ.
But I've also put together some less standard tips that make the move a bit less hectic. Here are a few:
1) Americans don't understand electric tea kettles.
Most mobility advisors will tell you to leave all of your appliances in Denmark. Since the US has a different electrical standard than Europe, these appliances will require expensive converters that will slowly fry them and possibly set them on fire at the worst possible moment. (The exception is laptops and tablets with USB chargers.)
The only that won't be much cheaper and easier to buy once you arrive in the US is an electronic tea-kettle, which is not standard in American life – I never saw one before I moved to Denmark. (The same is true for metal drying racks, but I digress.)
Americans won't understand why you need one, and you probably won't be able to find one in your local Target or Wal-Mart. Good news: they are available online on Amazon.
2) Free samples at Costco make for a lovely afternoon snack.
There's nothing more American than big box stores, where you can get great deals on volume purchases of consumer items.
The best-known is probably Costco, which profiles itself with a wide range of tasty "free tasting samples" that make for an excellent snacking session or even a light lunch.
Costco, like competitor Sam's Club, is a membership-only store, but a once-a-year membership fee can be well worth it for the savings on not only food and household items but eyeglasses, hearing aids, car rentals, and vacations, all of which can be booked through Costco. (The company is also famous for treating its employees well.)
Bargain-hunting is a way of life in the US, along with coupon-clipping, and it's not considered low-end or embarrassing to use a paper coupon – except, perhaps, on a romantic date.
3) In the US, trains and bicycles are mostly for leisure, outside of a few large cities.
While Amtrak, the national railroad network, has some profitable business routes between close-together big cities like Milwaukee and Chicago or Boston and New York, in most parts of the country trains are used mostly by tourists who like to look out the window at the pretty scenery.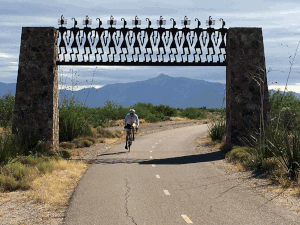 Bicycling is becoming popular in the US, but there are few dedicated cycling lanes, and many American car drivers are not very good at sharing the road.
If you want to bicycle, I suggest non-car areas such as Atlanta's BeltLine or Tuscon, Arizona's Loop River Path (shown).
4) Americans who depend on tips get nervous when they hear your European accent.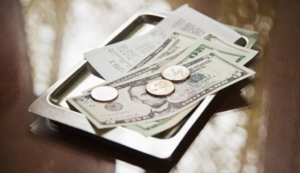 They know that tipping isn't common in Europe, and worry that you won't be adding the gratuity that makes up a substantial part of their income. Whatever you think about the justice or injustice of the tipping system, customers who don't tip in the US are considered to be selfish jerks and not welcome to return.
At any sit-down dining establishment, tip the server (not waiter/waitress any more) 15-25%. The same is true for your hairdresser, barber, or nail technician. Tip the taxi driver or Uber or Lyft driver too, and the chambermaid if you stay overnight in a hotel – a couple of dollars will do.
Please tip with foldable bills and not coins: the largest US coin in common use is 25 cents, which is roughly Dkr2.
Tip food delivery drivers at least $5 to $10 when they bring your meal, particularly in lousy weather. But you do not have to tip other delivery drivers, such as UPS, FedEx, or Amazon Prime staff.
5) Your American mailbox works for outgoing mail as well as incoming mail.
The unique American mailbox (not postbox, that's British English) resembles a "breadbox on a stick", according to one comedian. It is for the use of the United States Postal Service only.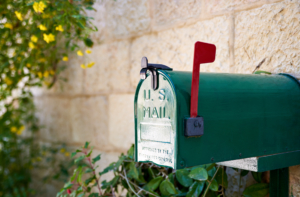 Other vendors, such as FedEx, cannot put packages in it. (There are also substantial extra penalties for using the US Mail for any illegal activities, so keep that in mind if you plan to receive any "special gifts" by mail.)
If you'd like to mail a letter, just stamp it and put it in your mailbox with the little flag up (as shown.) The postal carrier will take it away when she drops off your mail.
Kay Xander Mellish is an American living in Denmark. If you'd like to book Kay for cultural training before moving to the USA from Denmark, contact her via this form.